Das ATC-Thema für Juli/August bei
art4card
war Rosen. Ich habe mich bei diesem Tausch mit zwei Karten beteiligt.
Leider ist das Foto nicht so schön geworden. In real sehen diese beiden Karten viel schöner aus.
Die linke Karte habe ich von Astrid bekommen. Sie hat echte Rosenblüten verarbeitet.
Die rechte Karte ist von Anne. Ich bewundere ihre Feinarbeit!
Vielen Dank für diese beiden wunderschönen Karten.
In July/August we swapped roses at
art4card
. I changed two cards.
Unfortunately the photo is not very good. In real the cards are wonderful.
The left card is with petals. Astrid made it.
The right card is from Anne. She used very small pieces.
Thank you for swapping.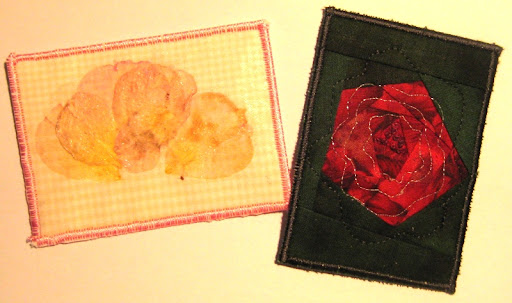 Und diese Karten habe ich genäht. Die beiden mittleren Karten waren anfangs etwas zu groß. Deshalb habe ich sie seitlich etwas verkleinert. Danach waren sie zu klein..... Typisch! Die beiden etwas zu kleinen Karten sind jetzt meine ;-)
I made this two cards. The cards in the middle were a bit to big. Then I cut the edges - and now they are to small.... The smaller cards are now mine ;-)