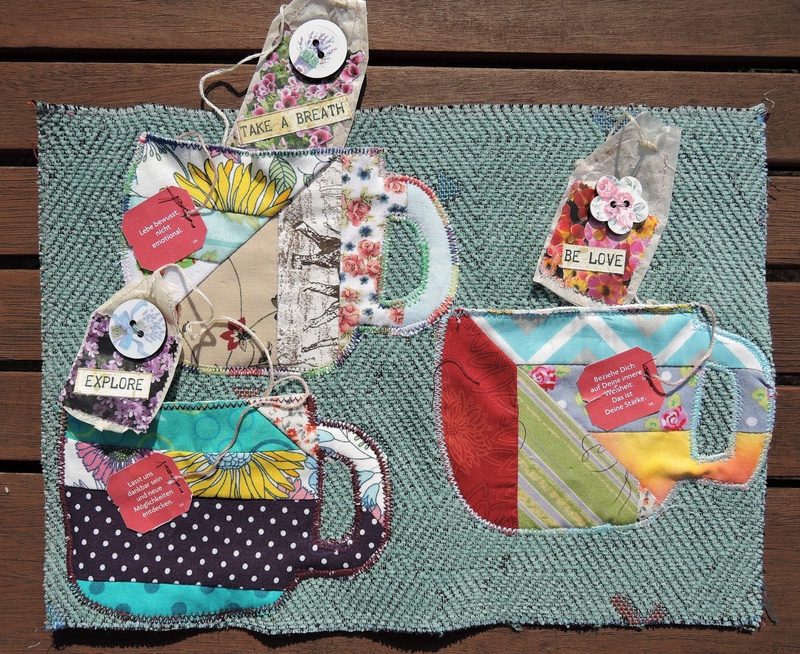 Zeit für Tee, so nenne ich diese Stoffseite.
Auf der Suche nach einem passenden Hintergrund für Teetassen ist mir mein Stapel Dekostoffe in die Hand gefallen, den ich vor Zeiten im Verein geschenkt bekommen hatte. Die Tassen habe ich aus einem übrig gebliebenen Blog meines Scrap-Mystery-Quilts geschnitten (fast etwas zu groß...).
Ich trinke sehr gerne Tee und habe eine Zeit lang die Labels mit den Sprüchen gesammelt. Ich fand es zu schade, sie nach einmal Lesen gleich wegzuwerfen. Aus leeren Teebeuteln habe ich weitere Tags bemacht. Die Tassen sind oben offen, so kann man die Beutel zum Ziehen lassen in die Tasse schieben (oder auch einfach um sie zu verstauen).
Time for tea, that's what I call this fabric page. While looking for a suitable background for teacups, I came across my stack of decorative fabrics that I had been given as a gift at the club. I cut the cups from a leftover blog of my scrap mystery quilt (almost a little too big ...). I really enjoy drinking tea and
collected the labels with the sayings
for a while. I thought it was a shame to throw them away after reading them only once. I made more tags from empty tea bags. The cups are open at the top, so you can slide the bags into the cup to stow them away.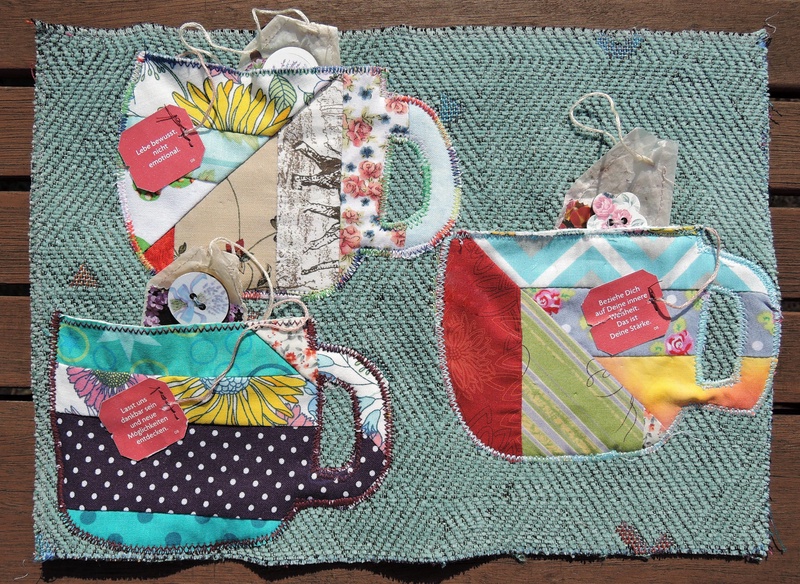 Vielen Dank für die Kommentare zu meiner letzten ArtJournal Seite. Diese Seite habe ich für
ArtJournalJourney
zum Thema "Taschen und Labels".
Thank you for your comments for my last posts. I am a little bad in replying but love all comments.
I made this page for
ArtJournalJourneys
topic "Pockets and Tags".